How this course will help you
Through a few steps, you will start to
Refine your purpose

Reflect and make decisions

Take a stand, when contexts don't feel right

Find alignment and grow confidence to adapt and change

Start loading off excess baggage from your life.
1

Welcome to the Hidden Values Mini-Course!

A message from your Thinking Partner...

2

DEVELOP A SHORT LIST OF YOUR TOP VALUES

CLARIFY YOUR TOP 6 VALUES

3

UNDERSTAND WHERE YOUR CORE VALUES ARE EXPRESSED

UNDERSTAND WHERE YOUR VALUES ARE *NOT* EXPRESSED

Optional: Template to map out where values are and are not expressed

4

UNDERSTAND THE IMPACT OF YOUR VALUES IN YOUR LIFE

5

BRING YOUR VALUES INTO ALL AREAS OF YOUR LIFE (Gamify your values!)

Book your spot on the free Live Q&A on May 27th with the intructor to discuss your findings alongside other students and get directions.

How a simple value exercise can help you shape a new vocabulary to activate your next steps

6

Congratulations! Here's what's next...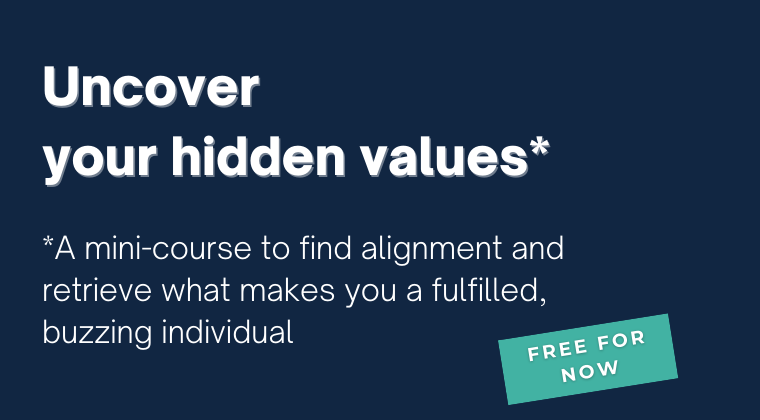 Hi, I am Servane, founder of Ogunte, and Conscious Innovation. In the past 20 years, I have supported ca 10,000 women leaders in the social economy globally, with leadership development programmes, discoveries, networks development and growth accelerators. I am proud to have helped amplify the women-led social entrepreneurship ecosystem. I am passionate about helping you deliver a great impact through your work and in the field that attracts you the most. One of my passions is Capoeira, a Brazilian Martial Arts, which in the past 23 years, has been challenging for my body but very good for my soul! You can read more about my work on www.servanemouazan.co.uk
Enrol now on this free mini-course
Complete this free mini course now!
The course will be retired in...